Doing Ministry in a Time of Social Distancing
---
Calling People Back to Church
"Calling People Back to Church," led by our Leadership Development Director Tim Strickland. Pastor John Mahaffey of West Highland Church will be also be speaking. Please click the link for the attached sermon notes from John's recent message, "The Return from Exile."
---
Lessons from Church History that Apply to the Church Today - Dr. Albert Mohler
We were privilege to have Dr. Albert Mohler, President of Southern Baptist Theological Seminary, professor, speaker, author, and insightful Christian commentator, as our guest speaker.
Dr. Mohler's topic was "Lessons from church history that apply to the church today: What God is teaching the church and how the church should go forward".
Click below to watch the full video
---
Increasing Online Engagement Webinar
This webinar will help you move beyond counting service views to find meaningful ways to connect with both new viewers and longtime attendees so they can trust in Christ and grow as disciples through their connection to the church. Click on the 'Replay' below.

---
Effective Friday, June 12, 2020 at 12:01 a.m., all places of worship in Ontario will be permitted to open with physical distancing in place and attendance limited to no more than 30 per cent of the building capacity to ensure the safety of worshippers. To read more more - Ontario Permits More Businesses and Services to Reopen in the Coming Days
Additionally, the province will increase the limit on social gatherings from five to 10 people across the province, regardless of whether a region has moved to Stage 2.
Frame Work for Reopening - Stage 2

More information will be coming soon from the government on procedures for churches to open.
---
Zoom Think Tank With MPP Sam Oosterhoff (June 3, 2020)
MPP Sam Oosterhoff (Niagara West), spent time with the pastors and staff from our FEB Central Churches to listen to feedback on suggested safety measures in anticipation of the reopening of places of worship. Sam (on behalf of MPP Monte McNaughton - Minister of Labour) has been consulting with faith leaders across our province.
Attached below is the video and questions (on the Zoom Chat) which were asked during the meeting.

ZOOM Chat Questions for Sam Oosterhoff
---
Suggested Templates for Opening:
Smart Church Solutions has created this template for opening :Social Distancing, Ministry Considerations, and More..."Smart Church Solutions has developed this guide to help you consider how you can effectively and intentionally resume a limited live meeting and worship experience while still adhering to the ever-changing recommendations. We have attempted to present many of the more difficult choices you will need to consider prior to the resumption of operations, albeit in a limited capacity." Check their website: SmartChurchSolutions.com
---
From the CCCC's: COVID-19: A Call to Include Religious Organizations in Re-Opening Plan
CCCC, Christian Legal Fellowship and The Evangelical Fellowship of Canada, have written a joint letter to Ontario's Premier Doug Ford, calling for religious organizations to be part of that province's re-opening plan.
To read the full blog visit: COVID-19: A Call to Include Religious Organizations in Re-Opening Plan
To view the letter sent to Ontario Government: Letter to Premier Ford
---
Three Phases of COVID-19 for Churches
Phase 2 Doing Ministry with Limited Gatherings
The slides below outline key issues for churches to think about as we move towards the second phase of the COVID-19 crisis.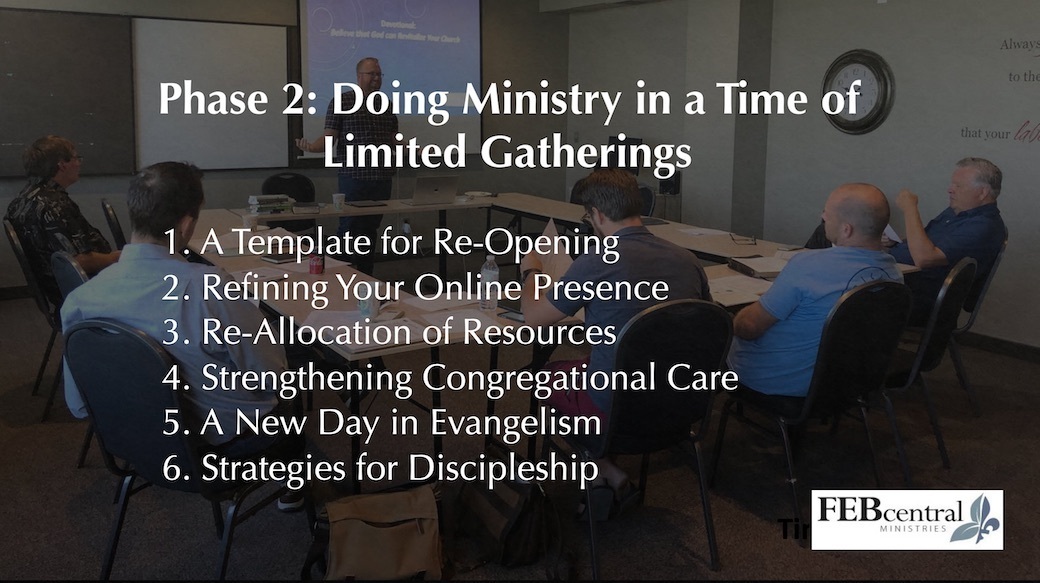 ---
"Planning for Post-Covid-19 Ministry."
The next steps of planning post-Covid-19 can be daunting. We have 4 great resources which will help as you begin the journey to re-opening your church.

1. Notes from the recent "Blank Slate" webinar by Thom & Sam Rainer, listing eight steps for post-Covid-19 ministry
2. "The Marathon Strategy" from Kevin Presseault at Greenbelt Church in Ottawa - This document shows how one FEB Central church is planning for ministry Post-Covid-19.
3. "What Comes Next…" FB Post from Deven MacDonald at Summerside Church in London. Deven asks some great questions and outlines plans for Summerside.
4. A few additional thoughts by Tim Strickland

---
Doing Ministry in a Time of Social Distancing: OUTREACH - Anchored in Hope from Truth
Steve Adams shares how to do Evangelism and Outreach in this time of social distancing and all the time.
The written PDF guide is available along with the video below

---
Doing Ministry in a Time of Social Distancing: Thriving at home -- Here some lessons we've learned about having our kids home all the time. We are three years into the journey. If you can, watch until the end. There are some good links to home, children's, and youth activities. Reach out to Bob and Tim if you need more activity ideas.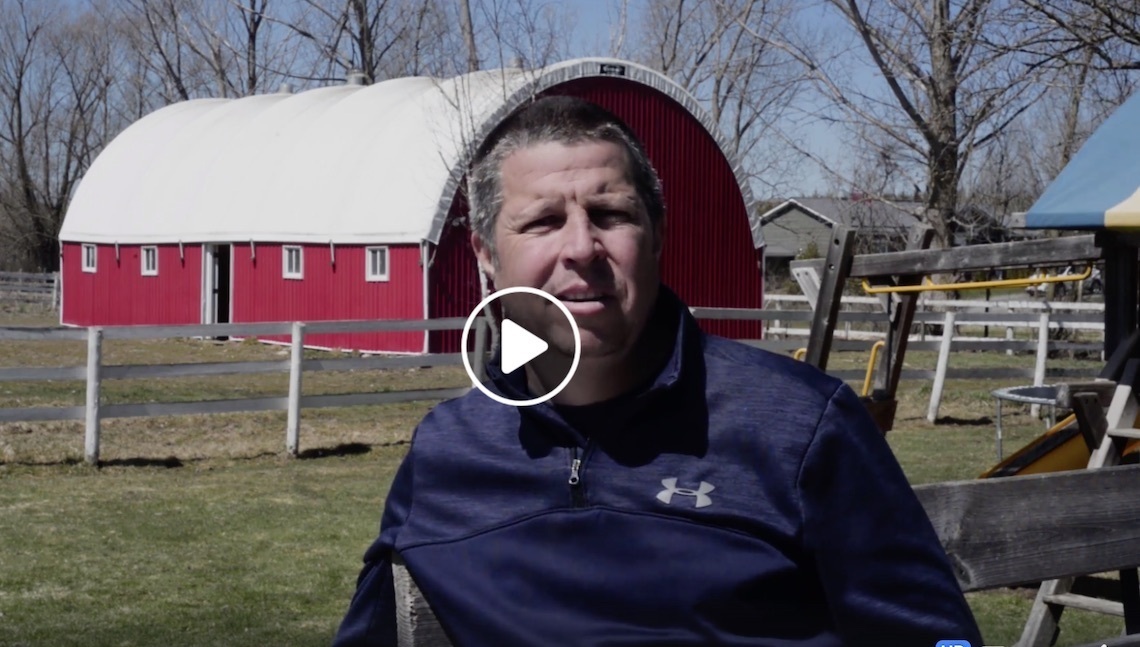 ---
Doing Ministry in a Time of Social Distancing: Subsidies & Relief Programs - (as of April 15,2020)
The written PDF guide is available along with the video presented by Rob Cole from the Fellowship National Office.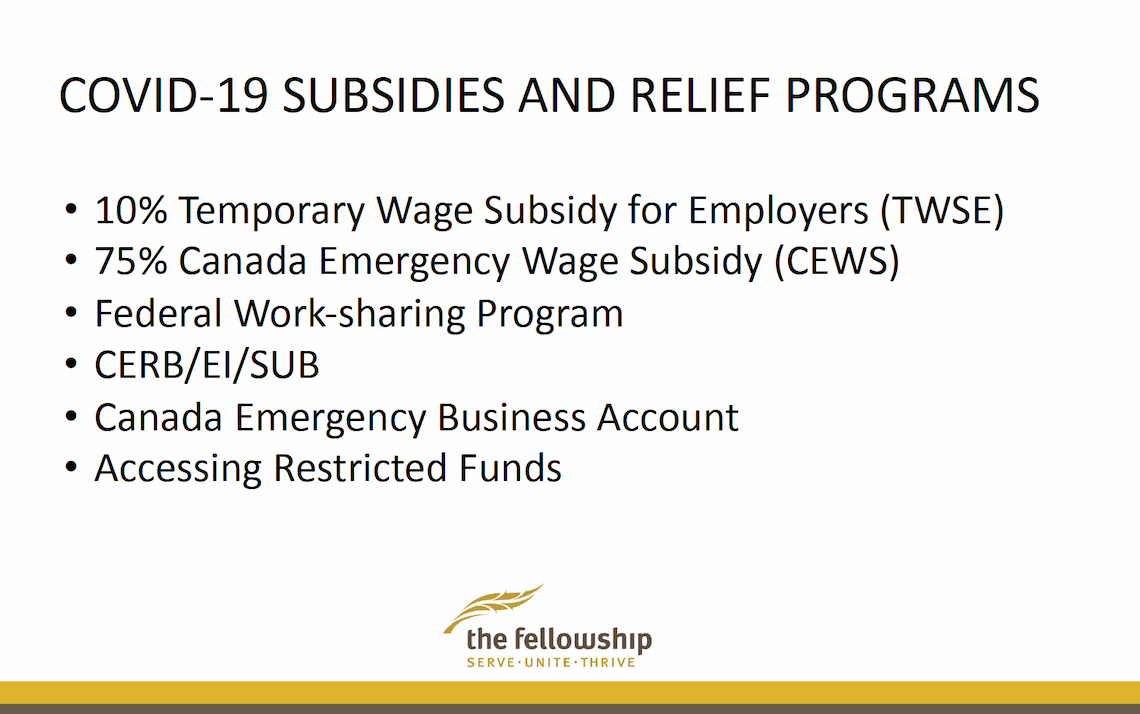 ---
Doing Ministry in a Time of Social Distancing: Engaging in Community - It is essential that we help our people continue to connect with one another in Christian community. Check out this video with some ideas for how to keep your people connected, and please share your additional ideas below. The written PDF guide to this video can be found here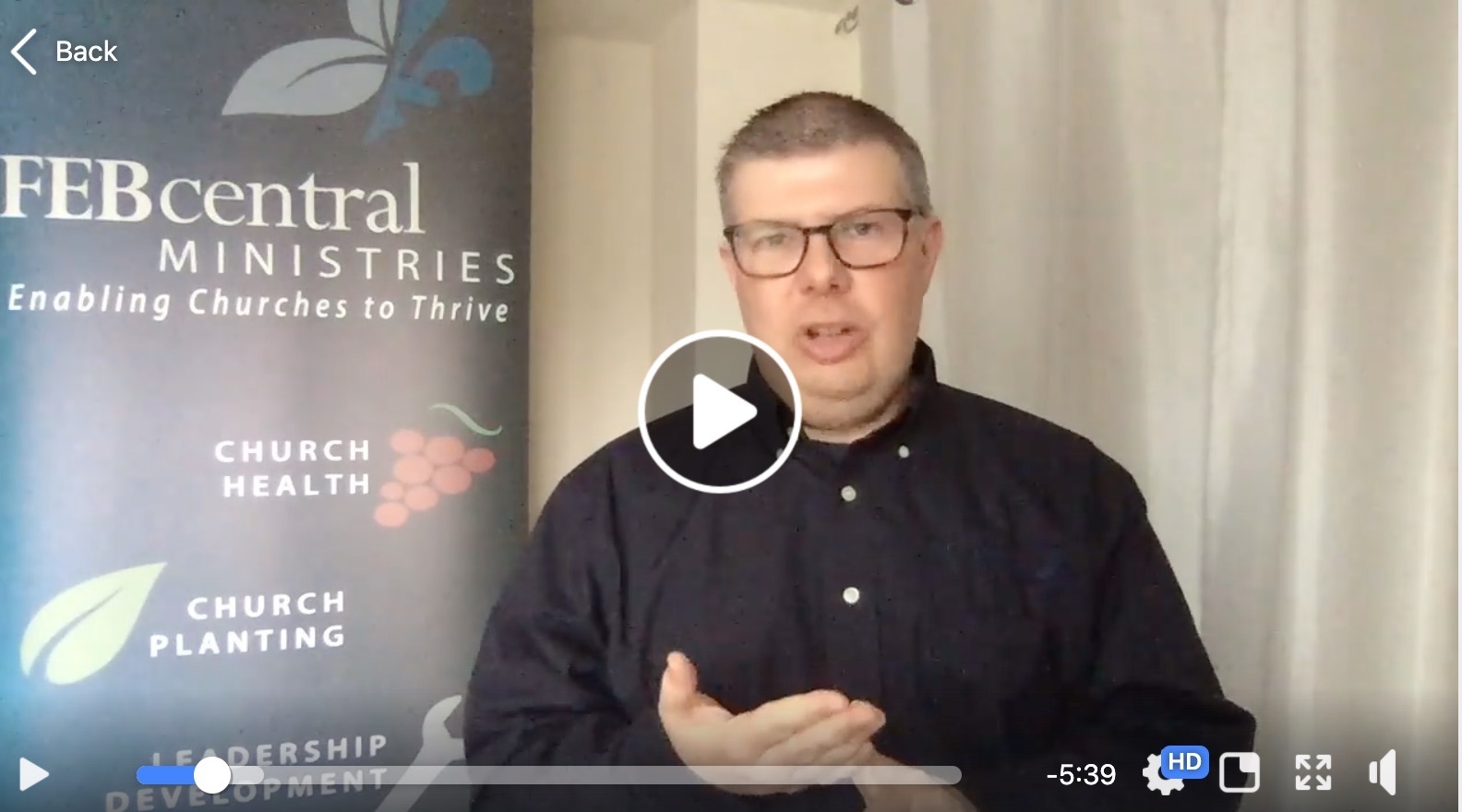 ---
Church Planting Director Tom Haines shares a helpful list of Outreach ideas for this time of Social Distancing.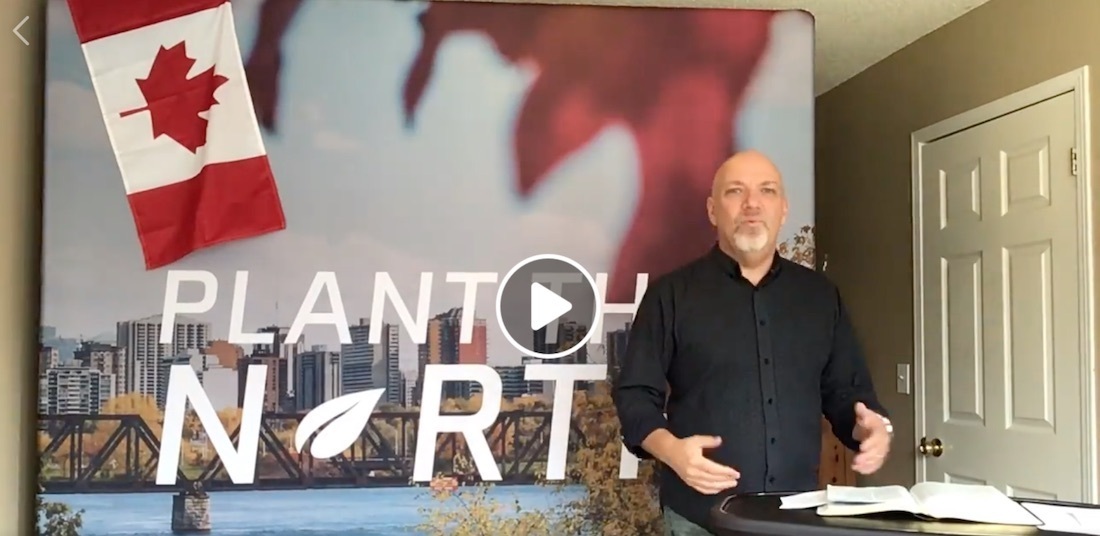 ---
Don't hesitate to contact us!
It is encouraging to hear how our churches are ministering and reaching out despite the present limitations. Like the psalmist said; The Lord is my strength and my shield; my heart trusts in him, and he helps me." (Ps.28:7)
Take a look at my video message below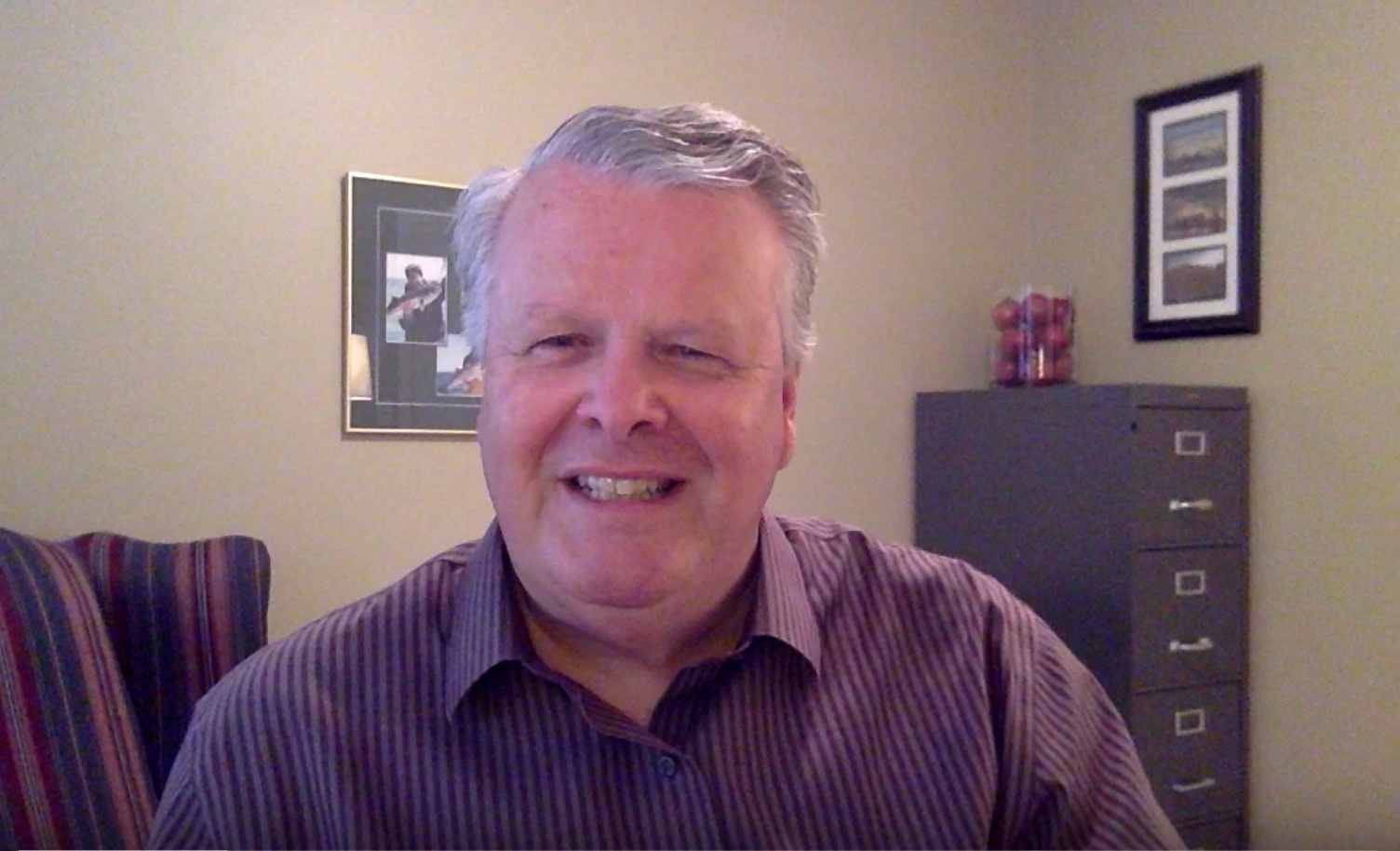 ---
Tech, Communication and Financial Wisdom

In these challenging times, we're looking to pull together our resources in order to equip churches of all sizes to communicate the Gospel message.
In this video, Regional Director Bob Flemming talks with Aaron Groat (Sr Pastor, Calvary Burlington), Candi Thorpe (Communications and Frontline Ministries, Calvary Burlington) and Gord Baptist (Fellowship Advancement Director).
Click below to watch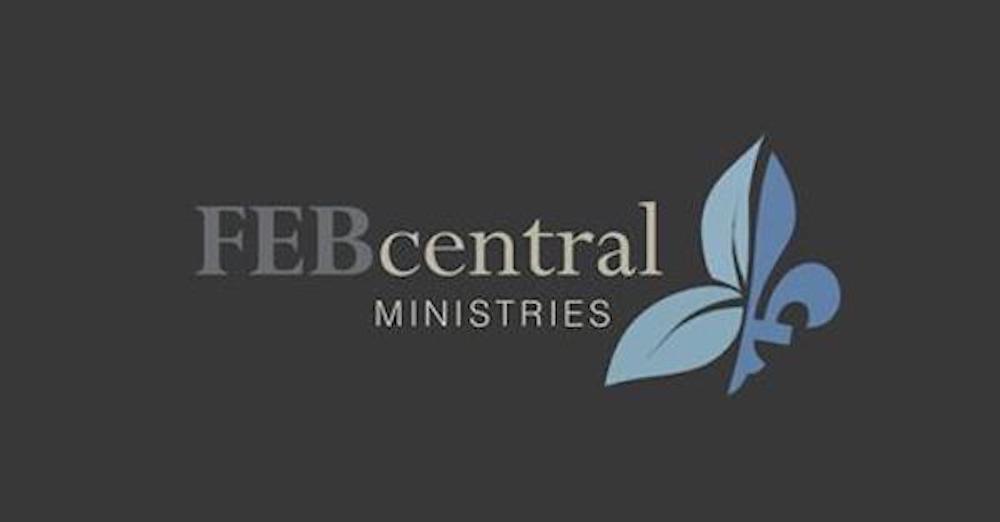 ---
---
Caring for the Vulnerable in a Time of Social Distancing
Today's video and written guide for pastors and church leaders shares practical steps and a reproducible plan to care for the vulnerable in your church. Thank you Shannon Pharoah, Faith Community Nurse at Calvary Baptist Church in Guelph, and Danielle Presseault, Director of Outreach and Chaplain at Greenbelt Church in Ottawa, for sharing these helpful ideas.
Link to Written Guide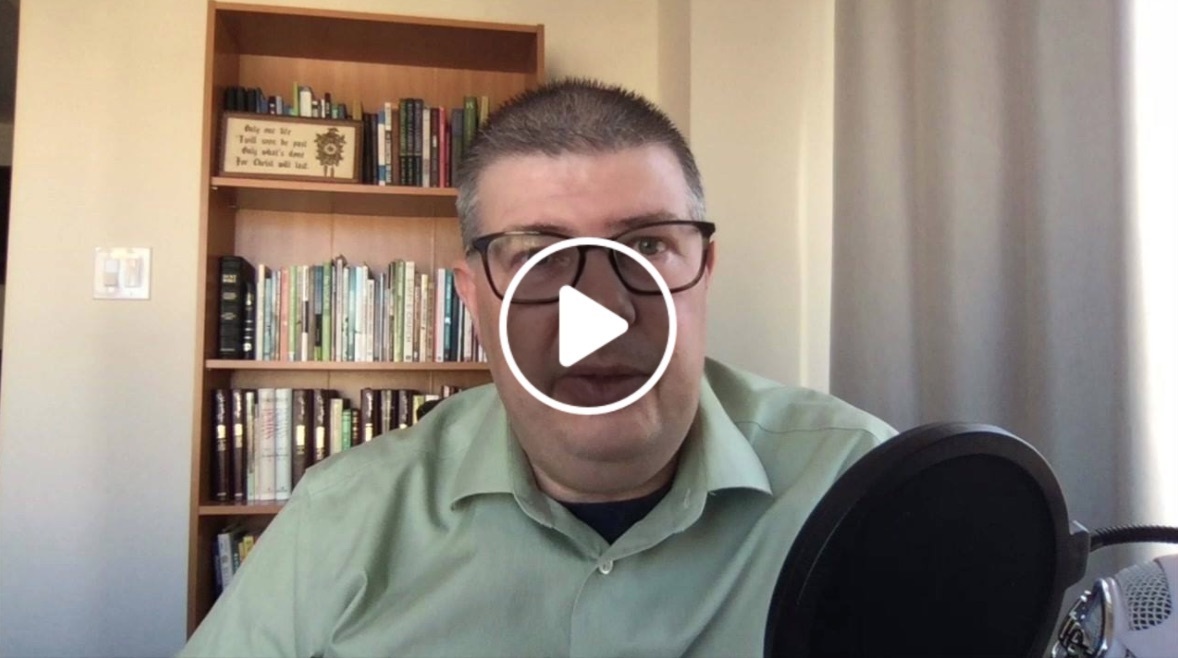 ---
Giving and Income in a Time of Social Distancing.
This video for church leaders offers Giving Principles, Communication Tips, and Practical Methods for Physical and Online Giving.
The links for three written resources are available below:
-written summary of the video
-sample vision and giving letter you can adapt for your church
-sample E-transfer instructions you can adapt for your church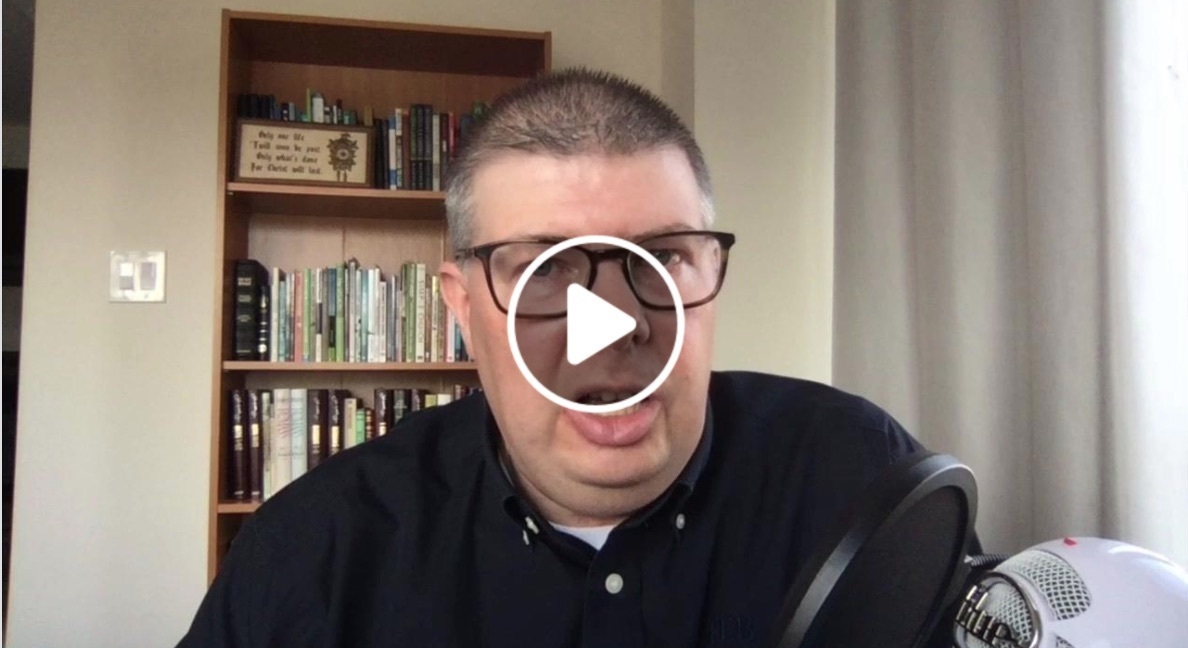 ---
---
Doing Ministry in a Time of Social Distancing: Seven Ministry Areas to Consider
At FEB Central we are sharing resources to help church leaders respond to the COVID-19 challenge. This is the first introductory video and pdf guide.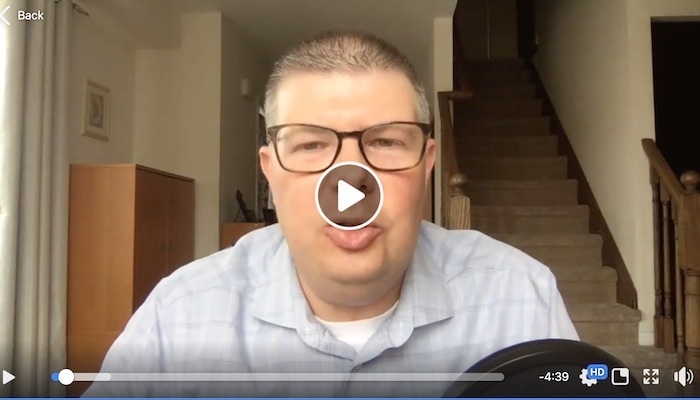 ---
---
Doing Ministry in a Time of Social Distancing: Tech Solutions for Worship - with Kevin Presseault and Tom Haines
Pastor Kevin Presseault of Greenbelt Church in Ottawa shares how churches can use technology to share worship services and create community. He presents tech solutions that are simple and workable for large and small churches alike. Please note that while is not full HD Quality, the content is gold!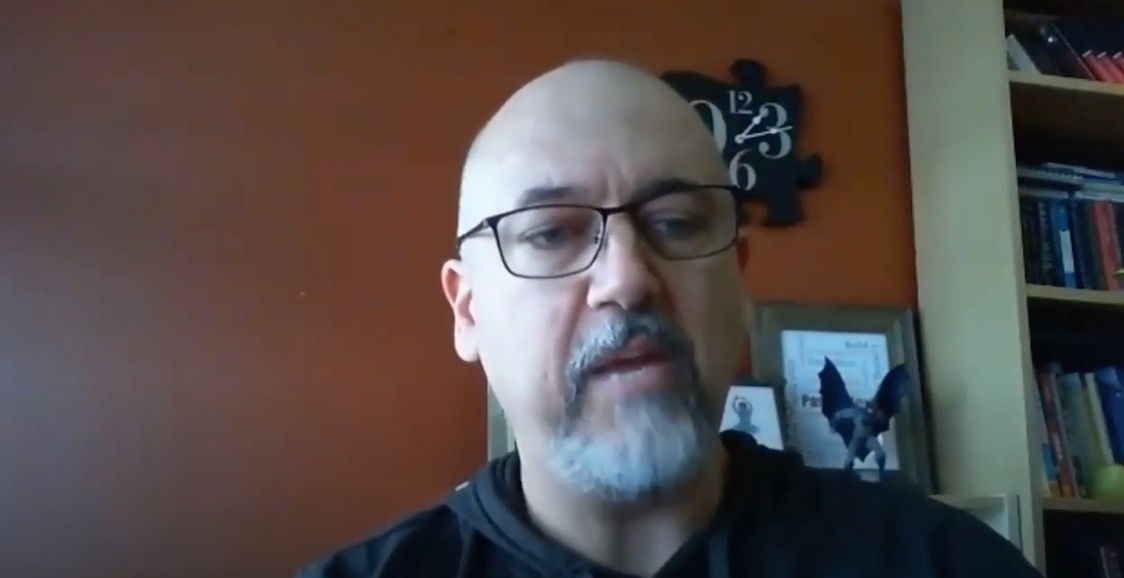 ---
---
Please find attached the newest information from Canada Life regarding travel insurance.
Update on claims and coverage for COVID-19
---
---
One of the significant challenges during this time is the reality of reduced giving because we are not meeting together and gathering an offering. Many of you are communicating this to your membership already - here's a link to Grace Community Church, Sun Valley CA, where Pastor John MacArthur talks about giving. It's a good example to learn some talking points that may help you communicate to your people.
---
For more information: